Slamming Spamming
Howard Solomon
Computer Dealer News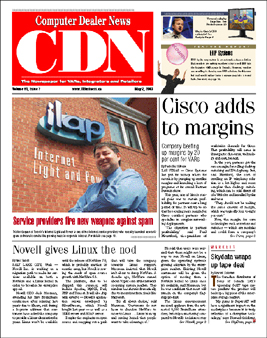 When Toronto telecommunications consultant
Eamon Hoey retrieved his e-mail after a recent two-day holiday, he was stunned to find the inbox was jammed. Not with business, but with spam. So much, in fact, his provider had to bounce some messages back to the senders.
"I was overwhelmed," he says.
It's not a new story. But because spam creates a drain on bandwidth — as well as unhappy customers — some Internet service providers are finding new weapons to slam spam and keep corporate customers happy.
Internet Light and Power (ILAP), for example, a Toronto service provider with about 3,000 corporate clients, recently launched its internally developed iPermitMail software, which, for $69.95 a year, lets a user create a so-called "whitelist" of e-mail addresses that mail can be received from.
Pathway Communications, a Toronto ISP with about 1,000 corporate customers, has taken a different approach: selling it's own network management and monitoring software for other service providers and enterprises, which includes spam-blocking technology.
Both created solutions after years of trying other products. ILAP, which also offers services such as database and Web site development, tried software that creates blacklists of senders and forbidden words. "But you're forever trying to stop the world from coming to you," said Tristan Goguen, the company's president.
ILAP's iPermitMail tries to reverse that. Mail from unapproved senders is held in a folder for deletion or acceptance. The system also lets users "inherit" the approved lists of other iPermitMail customers, which ILAP hopes will lower the number of legitimate addresses that need to be added to each person's list.
Goguen says the system blocks spam "99.999 per cent of the time."
Pathway's NetPulse was originally built by the company to help monitor its network, but then developed into a product for sale.
According to Stephen Novotny, Pathway's manager of information technology, it includes three anti-spam features: an updated list of known offending mail servers and text filters, both of which are set by network administrators, and personal address filters, which can be set by each user similar to ILAP's system.
NetPulse carries a list price for ISPs of $20,000, for enterprises it costs $12,500.
Multiple weapons are the best defence against spam, says Maurene Caplan Grey, research director for e-mail at Gartner Inc. "Whitelisting is good, but by itself has limited usefulness."
But teaching staff safe e-mail practices is also a vital anti-spam weapon, she says. Don't reply to spam, don't use business e-mail addresses in online chat or user groups, she adds.
Meanwhile, major vendors continue to release spam-fighting products for enterprises. Last month, Network Associates put out McAfee SpamKiller for Microsoft Exchange 2000 Small Business, which uses blacklists, whitelists and content filtering.
Microsoft announced its upcoming Exchange Server 2003 will include a tool so partners can integrate anti-spam solutions to scan an e-mail message and score its probability of being spam.